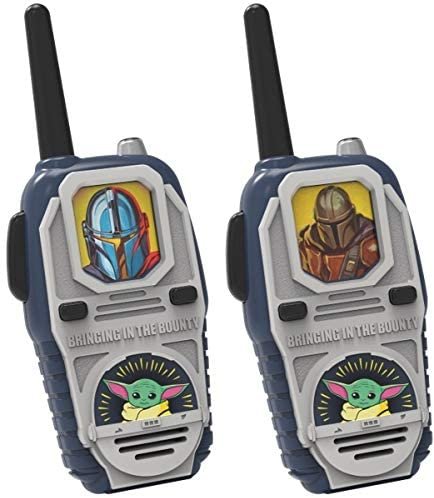 Star Wars The Child Walkie Talkies, Long Range Static Free with Lights and Sound Effects
---
THE CHILD " AKA BABY YODA" The Child, colloquially known as "Baby Yoda" among fans and the media, is a character from the Star Wars Disney+ original television series The Mandalorian. He is an infant member of the same unnamed alien species as the popular Star Wars character Yoda, with whom he shares a strong ability in the Force. eKids is one of the leading manufacturer of cutting edge, interactive electronic toys, learning aids, and real electronics for kids of all ages. We understand and respect the importance that toys play in kids' lives. With that responsibility in mind, we combine state-of-the-art technology with old-fashioned fun to create innovative, exciting, and enjoyable products that kids will love and parents can trust. Star Wars The Child Walkie Talkies "AKA Baby Yoda" Kids Toys, Long Range, Two Way Static Free Handheld Radios, Built-in Lights and Sounds Baby Yoda Walkie Talkies are not only fun and durable, but the sculpted design make them completely unique! Enjoy the static free quality and extended range during your playtime. 2 Handheld Walkie Talkies Built-in Lights & Sounds Static Free Long Range Baby Yoda Design and Styling Perfect Gift INSPIRED BY THE DISNEY PLUS SERIES: Star Wars The Child "AKA Baby Yoda" Walkie Talkies Edition is inspired by the fan-favorite character from The Mandalorian GREAT FOR LEARNING:Explore your world with the walkie talkies in hand and you might just discover some surprising new skills. Encourages communication, develops language skills, enhances social skills 2 Handheld Walkie Talkies Built-in Lights & Sounds Static Free Long Range Baby Yoda Design and Styling Perfect Gift INSPIRED BY THE DISNEY PLUS SERIES: Star Wars The Child "AKA Baby Yoda" Walkie Talkies Edition is inspired by the fan-favorite character from The Mandalorian GREAT FOR LEARNING:Explore your world with the walkie talkies in hand and you might just discover some surprising new skills. Encourages communication, develops language skills, enhances social skills
✔️ Built-in Speech & Lights: Speech and sound effects, send and receive phrases, sound effects, and your voice. Walkie Talkies Light up during speech also light up power indicator
✔️ SET OF 2 EASY TO USE RADIOS: Baby Yoda Walkie Talkies graphics and styling, lightweight and designed for any boy or Girls little hands, high quality walkie talkies, static free, extended long range and mic, with a simple push to talk button
✔️ GREAT FOR LEARNING: Explore your world with the walkie talkies in hand and you might just discover some surprising new skills. Encourages communication, develops language skills, enhances social skills promotes exploration and discovery
✔️ INSPIRED BY THE DISNEY PLUS SERIES: Star Wars The Child "AKA Baby Yoda" Walkie Talkies Edition is inspired by the fan-favorite character from The Mandalorian
✔️ PERFECT GIFT: This will make the perfect gift or present for any kid ages 3 and up, you child will surely enjoy it.
---
Share this Product
---
More from this collection