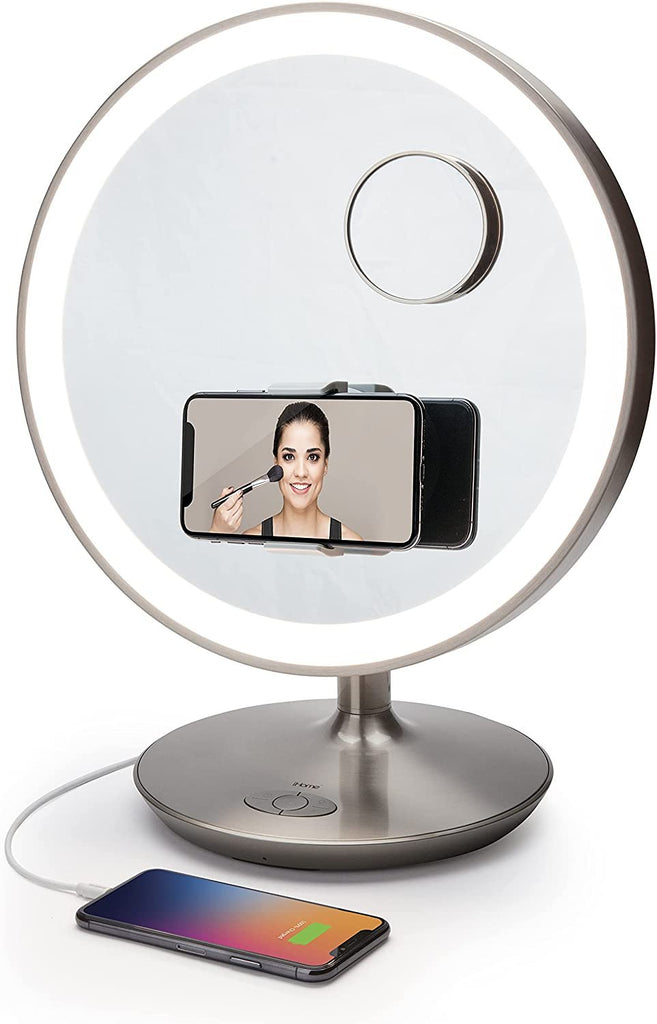 iHome Beauty Glow Ring XL 13" Makeup Mirror with Bluetooth Speaker, Speakerphone, USB Charging, Removable Phone Mount, Rechargeable Battery and 3 LED Color Modes
---
iHome Beauty GLOW RING XLOversized Rechargeable Vanity Speaker with Bluetooth, Speakerphone, and USB Charging. Oversized 13" XL Mirror with 1x magnification, Removable 3" Detail Mirror with 10x magnification with Simplestick technology for easy placement on mirror or non-porous surface. Full-Spectrum Lighting Up to 1,000 LUX with 4 levels of brightness. Three Color Lighting with 3 dimmable hue adjustments including bright daylight, soft, and warm evening modes. Bluetooth Wireless audio streaming and Speakerphone Hands-free calling + Audio Caller ID. Apple iOS 10 compatible Voice Control and Siri and Google Assistant. USB Charging Port, Removable Phone Mount With Simplestick. Power-Saving Timer - 25 minutes. Micro Fiber Cleaning cloth included. Tilt Mirror Adjusts to any angle. Portable and Rechargeable Up to 19 hours of audio
OVERSIZED 13" LUX GLOW RING MIRROR: Full-Spectrum Lighting Up to 1,000 LUX with 4 levels of brightness. Three Color Lighting with 3 dimmable hue adjustments including bright daylight, soft, and warm evening modes
PERFECT FOR MAKEUP TUTORIALS: Phone Mount With Simplestick Technology, perfect for recording Makeup Tutorials
BLUETOOTH SPEAKER: Enjoy your favorite tunes with Bluetooth Wireless audio streaming and Speakerphone Hands-free calling + Audio Caller ID
REMOVABLE 3" DETAIL MIRROR: Removable 3" Detail Mirror with 10x magnification with Simplestick technology for easy placement on mirror or non-porous surface.
TILT MIRROR: Adjusts to Any Angle to ensure you can hit every spot possible!
---
Share this Product